SaaS Financial Plan for Startups and SMB's
I created the SaaS Financial Plan in Excel, so that SaaS startups and SMB's could easily create their own financial forecast.  Many Excel forecast models become very complex, but I created step-by-step instructions with links to input cells so you can easily create your first forecast.
I am constantly improving and updating the the model with more metrics, charts, and features.  Please bookmark this page and check back for the latest version.  I would love to hear your feedback.
Release versions are below with comments.  You can download the latest SaaS Financial Plan below.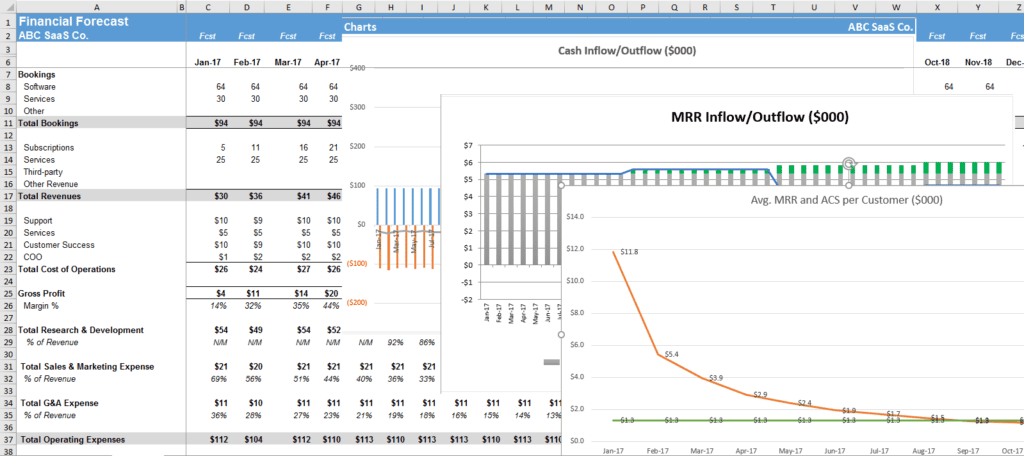 Version 1.0
Version 1.1
Expanded CapEx forecasting to include book depreciation forecast and tax depreciation forecast.
Version 1.2
Expanded Revenue Inputs tab to include Field Services revenue, bookings and backlog forecast.

P&L now includes a forecasted Services revenue line

New charts include Cash Balance, Customer Counts, Services Backlog and Backlog in Months
Version 1.21
Small but major fix to pull in the correct cash amount. In row 63 on the Summary tab, I was not pulling in Services bookings into cash.  Added this.
Version 1.3
Headcount model can forecast more than one position per row.
Added CAC and customer acquistion costs on the Summary tab.
Fixed the services burn formula on the Revenue Inputs tab.
Added Charts – 1 Year tab.
Added Saas Magic Number calculation to Summary tab.
Version 1.31
Fixed Services Burn formula on Revenue Inputs tab.
Version 1.32
Revenue Inputs tab can toggle between MRR and ARR model
Added CAC Payback Period formula on Summary tab
Added CLTV formula on Summary tab and related charts
Added SaaS Magic Number charts
Added Cost of $1 of New ACV calculation and related charts
Version 1.33
Fixed formulas in cells B14 to M14 in Revenue Inputs tab. It was not calculating ARR customer renewal counts correctly if you started with a beginning customer balance.
Version 1.34
Improved the accuracy and flexibility of the MRR waterfall on the Revenue Inputs tab

Previously, it could not handle renewals and new ARR/MRR starting at different price points.
Improved accuracy of renewal averages (weighted average of new and existing subscriptions).
Version 1.35
Fixed terminal value calculation on Summary tab.  It was not discounting by WACC.
Version 1.36
Created a Revenue Summary tab so that it is easy to add multiple revenue input tabs.
Version 1.37
Fixed formula in row 36 of Revenue inputs tab.  Formula was lagging behind one year in capturing expansion revenue.
Improved formula in row 24 of Revenue inputs tab.  If you started your customer count later than month one, you would see #DIV/0! errors.
Please enter your valid email below (no spam) to download v1.37.  I'll keep you updated on future models.