Sales Team Headcount Forecast
If you have a detailed forecast model, extending the forecast time frame by adding more columns is very easy.  The hard part is scaling your expense base so that you don't have unbelievable margin and net income expansion.  One area of the P&L that I struggle with is the sales team headcount forecast.
My headcount forecast model is based on a template you can find in this headcount forecast post.  It creates extremely accurate monthly wage forecasts, but you do have to manually add heads to make sure your sales team headcount or other departmental headcount is scaling correctly with your ARR or MRR bookings growth.
After working on some three to five-year forecasts, I sat down and templated an Excel model that would calculate the required sales headcount based on your bookings targets. The tricky part is new hire timing for sales reps.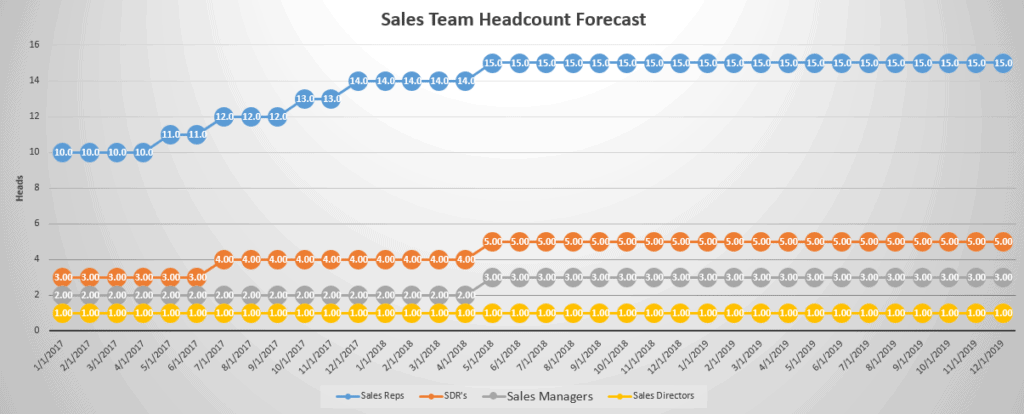 Sales Rep New Hire Timing
If you need $X,XXX in bookings in six months, you can't hire them in six months.  You need to hire them now depending on the ramp up time required for a new sales rep hire.  This model with take the inputted ramp up time and hire them ahead of when you need them to hit your bookings targets.
It will also forecast Sales Development Reps (SDR's), Sales Managers, and Sales Directors based on your ratio requirements.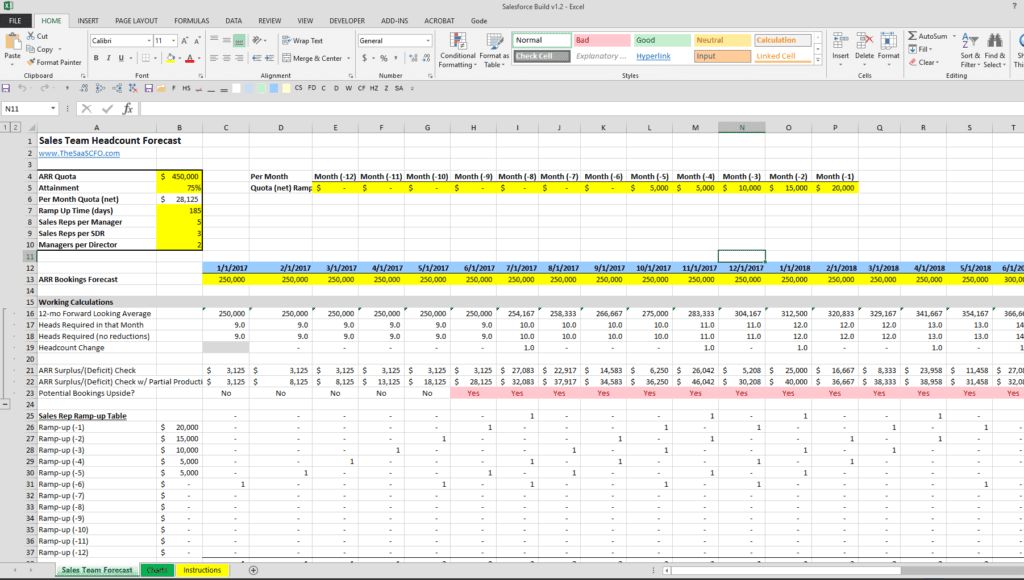 Why is This Important?
The first is cash burn.  You have to account for the cash required to have reps on staff who are still learning and not productive.  The second is a realistic relationship between headcount requirements and your bookings forecast.  You can't just model a new hire starting at the exact moment that he or she is needed to be fully productive.
Important Assumptions
I assume that the sales rep do not contribute to quota during their ramp up period, but I do calculate the impact of any assumed partial productivity if you desire to see that.  Also, in this first version, I am not ramping up the other sales staff before they are required.  They start when the ratio hits the inputted number.
I welcome any and all feedback on this sales team headcount forecast model.  Would love to hear your thoughts.
Do you have ramp up times built into your headcount forecast model?
Please enter your valid email below (no spam) for the instant download.  I'll keep you updated on future SaaS Excel models.
If you do not receive the download, please contact me.